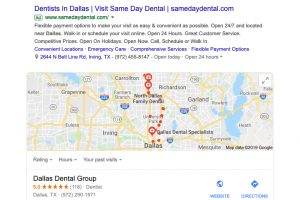 As a dentist in the digital age, you understand that your brand is key to your success. Your marketing strategy must incorporate a strong online presence in order to stand among the competition.
You know that how you build and maintain your website directly correlates to your placement in a Google search, but do you happen to know what all those different sections on the actual search page mean… and what you can do to appear in any/all of those sections?
We all know how important it is to land on the first page of Google's search results. According to Thrivehive.com, 91% of people do not click past the first page on Google. So, when considering you have up to 18 available spots to appear on that search results page, you want to make sure you capitalize on that.
You can think of digital shelf space on Google like you would shelf space in a grocery store. For instance, say you have a select number of beers you are selling in the grocery store. You'll pay the distributors a slotting fee to organize that product on your shelf and make sure your product is up front. The more it's upfront and easily accessible to the customer, the more likely they are to pick your product, right? It's no different for digital shelf space and your website.
If you're looking to get more patients to your practice and need to get shelf space, you might want to jump back to one of our early articles, "How to Generate More New Patients for your Dental Practice."
Just remember, you can attract new patients through:
Increasing your online visibility – polish those social media business pages and get your website up-to-date;
Referrals – get good referrals from your existing patients;
Organic Search – you want to be listed on page one of the search results;
Paid Marketing – if you utilize Google Ads, you can make sure your website appears on the top page of those search results;
Insurance Searches – make sure you are "found" in insurance searches, for both in-network and out-of-network;
Community Activities – show your expertise on all things dental by giving presentations or providing dental health screenings to community organizations.
Dividing Up Shelf Space
As you can imagine, just like the beer aisle, the more listings you have on a Google search results page, the more likely you are to get a click. Although you have 18 total listings on a page, you can divide the Google search results into three main sections:
---
1) Paid Ads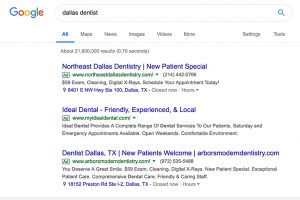 There are up to four spots available at the top of the page dedicated to paid advertisements. On average, 20 out of 100 people will click on those ads. The tradeoff? You can expect to shell out $1,000-$1,500 a month to claim one of those spots and list it effectively.
---
2) Map Pack (Local) Listings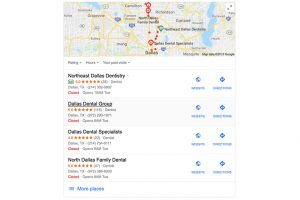 The most coveted spot, this is considered the "Holy Grail" of the page. About 40 out of 100 people will click on these listings. The first item on the map is a paid ad.
Google added a fourth listing to this section because it's deemed such valuable real estate as a sold ad. There's typically a higher emphasis on geography; hence, why this area is seen as prime real estate on the search results page.
---
3) Organic Listings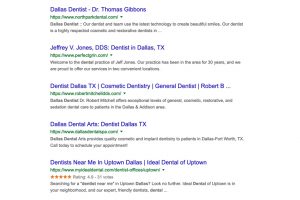 The remaining 10 spots on the page are dedicated to organic search listings. 40 out of 100 people will click these listings, as well. If you remember to our overview on how to attract more patients (and its more in-depth article on Organic Search), this is all about how you get your site found through its content. How you're found is based on the pages of your site, reviews of your practice and the matched search terms.
Don't forget, all of these factors are driven by the following:
Quality of website
Reviews
Social media activity
Geography
---
Maximizing Your Visibility and Clicks
Research shows if you have a listing in all three sections, you'll get a 30% boost in all activity and clicks to your site. But, if you can't swing that, just know that if you are in the bottom section (= organic listings), you can get multiple listings in that one area!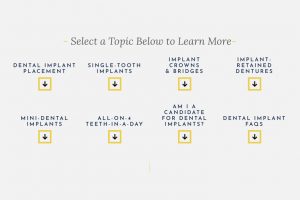 For instance, if someone is searching for a speciality procedure — say, dental implants — you can be listed in that bottom section more than once. If you build out an effective content strategy and contribute multiple pages of your site to discussing the different facets of dental implants, your site and its pages can appear several times in the organic listings.
Or, if you offer a specific service in a non-competitive market — maybe sleep apnea therapy — make sure your content matches accordingly in order to bump up the number of listings in that organic section. Just remember, more visibility equals more opportunities to find you!
If you are ready to ramp up your appearances on the Google search results page and don't know where to start, give us a call at TNT Dental today. Our team of experts are equipped to develop your marketing strategy and help you define where and how you'll show up on your new (and existing) patient's online searches!
---
About The Author
Tim Kelley is one of the founders of TNT Dental, the #1 creator of custom websites and marketing strategies for dentists. Recognized as a leading expert in helping dental practices grow, Tim is passionate about harnessing the power of online marketing to attract and keep new patients. If there is anything Tim can do to help you, please do not hesitate to contact him directly at the office, (877) 317-4885, on his cell, (972) 989-9137, or via email at tim@tntdental.com. Of course, you can always visit www.TNTDental.com to learn more.