You've heard us talk repeatedly about the importance of a good, customized website for your dental practice. Creating a successful website that operates as a true conversion platform for you doesn't happen overnight; it requires the work of a dedicated team to execute this for you.
This process begins under the guidance of TNT Dental's Production Manager and Creative Director, Alex Calams. He doesn't enter into this process lightly; there is a lot of work that has to happen in order to elevate a client's website and take it to the next level.
Read on to learn more about Alex, his process, and how he utilizes a team of talented project managers, graphic designers, professional copywriters, website developers, and quality control specialists to create the best custom dental websites in the business of dentistry.
Executing the Creative Process
When a new dentist signs up to create a website with TNT Dental, Alex's meticulous nature leads him to thoroughly research each client's existing website and current marketing approach. By understanding that practice's present marketing efforts, their geographic area and where they're coming from, he lays the foundation for the next steps – interviewing.
Alex's research arms him with ideas to discuss with the clients, and creates more productive conversation. This interview allows the dentist to describe themselves and their practice in their own words. Alex pursues the big takeaway from each interview – three keywords that "describe the feeling of the practice," which are used throughout the process, and "become the project's mantra" during the development of the website among all team members.
"Understanding the personality and clinical focus of the practice is of utmost value. We want to understand the business of the practice and use the website as an engine to meet their goals and match them up with not only new patients, but the right kind of new patients."
Alex then takes his research and feedback from the interview and works with a dedicated team of project managers, designers, writers and developers to transform each client's vision into a reality. He creates a wireframe that develops the marketing strategy behind the homepage and highlights creative inspiration for his designer.
Alex's project managers keep SEO in mind by researching the existing website's rankings on Google. Then, they determine what content can be used on the new site, and create a framework that provides a clear sitemap for Google to read and index. This process then moves on down the "assembly line," where a content strategy is established based on the team's understanding of the client's clinical focus, and the writer begins creating unique content.
Alex's belief in allowing his people to shine in their respective areas of expertise brings out the best in each of his team members. His balance with his teammates achieves the ultimate goal of "helping a practice stand apart from its competitors and create a framework that encourages both interactivity and action among visitors."
---
Embracing Continuous Improvement
It may all sound like a well-oiled machine, but this kind of work doesn't come without its challenges. Alex understands that sometimes it requires having to put on a different hat in order to see the whole picture. "Being immersed in dental marketing, it's sometimes hard to remove yourself from what you know and see things through the perspective of the patient or average website visitor," he says.
TNT's team constantly challenges itself to think of new ways to connect with patients. By thinking outside of the box and embracing continuous improvement, you can execute a strategy that works for both the client and the patients. To take it a step further, Alex and his team understand you have to establish a balance between "cool versus useful." You can design something aesthetically unique, but if it creates visitor frustration, then it defeats the purpose.
To make intelligent design, content and development decisions, Alex and his team conduct user interaction research using focus groups that help test new ideas and understand how patients interact with websites. "We're not only looking at how they interact with websites – what draws their eye, what they actually read, and what motivates them to click one thing more than something else," he says. "We are also giving them task-oriented scenarios to see if they find important information, and how quickly." He adds with emphasis, "We do this on both desktop computers and mobile devices."
---
Creating Compelling Content
In finding that balance between creative and practical design, each team member knows the primary mission is to create appealing content for the new or existing patient browsing the website. According to Alex, you can achieve this with custom photos and videos.
People are more apt to read words that complement dynamic photos of the dentist, their team, office and their patients. These words must also evoke emotion, something to compel the visitor to pick up the phone and take the next step of scheduling an appointment. If you want to set yourself apart from the competition, get rid of the stock photos and use real images of you and your team.
As we've mentioned in any of our blogs in the "Video of the Month" series, people want to get to know you. The second and third most-visited pages on a dentist's website are the "Meet the Dentist" and "Meet the Team" pages. They want to know whom they are coming to visit, and by providing them that human element, they'll establish a better connection with you.
"One of my favorite recent examples of a truly custom dental website that connects with target patients is for Dr. Allan S. Mohr's practice on Long Island, Smile Creations," Alex says. "Dr. Mohr is a decorated cosmetic dentist that decided to revamp his website earlier this year and went all in. We helped him capture enough video during a one-day shoot to market his practice online for many years to come, in addition to ample photos," he added.
Alex went on to explain how custom content elevated the redesign and helped target patients Dr. Mohr wants to build his practice on. "While his old website told a similar story, the new one is extremely targeted to attract cosmetic cases and full-mouth reconstructions. The look, feel, content, photos and videos all drive this message home. Since its launch in late April, he is seeing a measurable increase in patients interested in the kind of dentistry he wants to be doing."
---
Latest Design Trends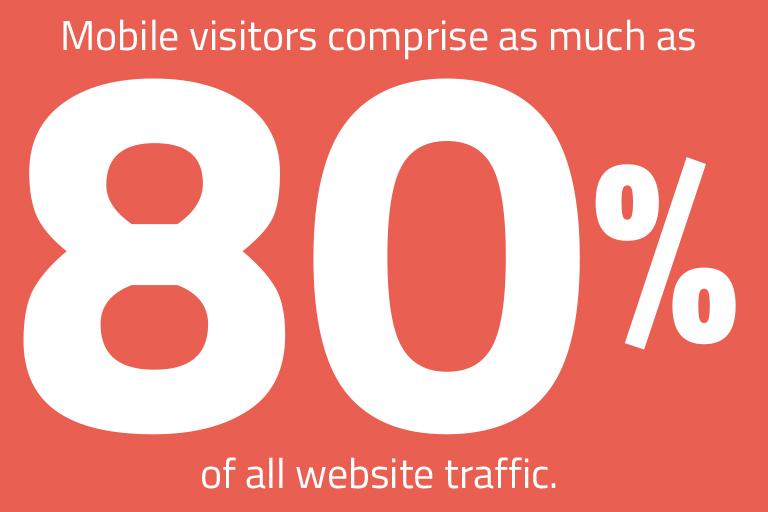 Alex and his team do their due diligence when creating a website, but they are always on the lookout for what's trending in the world of website design. The switch to mobile design has been on the rise (according to TNT, mobile visitor numbers are as high as 80% on the websites they track – nearly double from a few years ago), and in order to remain relevant, practices must ensure their websites allow for easy mobile viewing. The team at TNT designs a site that creates a fluid and predictable experience for the mobile viewer, which is key to converting them from visitor to patient.
---
TNT Dental's Team Dynamic
TNT Dental creates a collaborative environment for both its clients and its team members. Alex sees firsthand the success that comes from working with such a strong, open group. He worked his way up through the company, starting as a Designer, then moving to Operations Manager on the Growth Team before coming into his current role. TNT's open environment inspires team members to do their best work, which ultimately, trickles down to the relationship they build with their clients.
---
Looking to Revamp Your Website to Attract More Patients?
Are you looking to spice up your website and find some creative, out-of-the-box ways to captivate your visitors? The production team, led by Alex, would be happy to begin this process with you. Give us a call at TNT Dental today and we can get to work on designing both a new relationship and website with you.
---
About The Author
Tim Kelley is one of the founders of TNT Dental, the #1 creator of custom websites and marketing strategies for dentists. Recognized as a leading expert in helping dental practices grow, Tim is passionate about harnessing the power of online marketing to attract and keep new patients. If there is anything Tim can do to help you, please do not hesitate to contact him directly at the office, (877) 868-4932, on his cell, (972) 989-9137, or via email at tim@tntdental.com. Of course, you can always visit www.TNTDental.com to learn more.