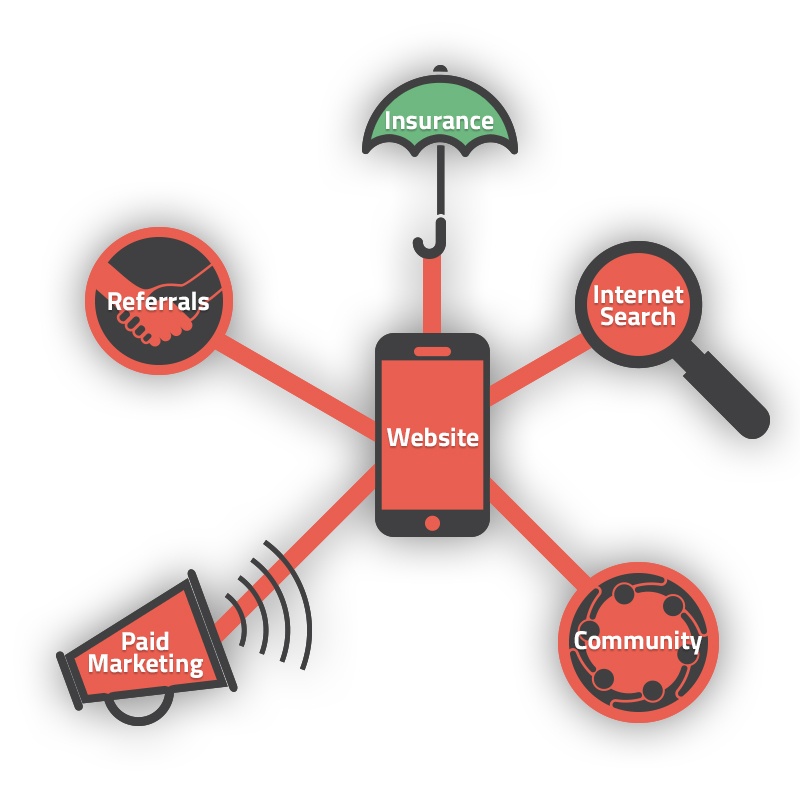 In our latest blog post from our series, How to Get Dental Patient Referrals & Grow Your Practice, we discussed how to maximize the patient experience and increase your dental patient referrals.
After you have honed your referral marketing tactics, you need to turn your attention to dental insurance: the next best way to increase your website traffic. Dental insurance is more important to patients now than it ever has been, and ensuring your office policies are clear, concise and easy-to-understand is very important. Maximizing the growth of your dental practice depends on it!
How Dental Insurance Drives Different Traffic to Your Site

Either folks fall in the bucket of the 50% of individuals who have dental insurance, or into the bucket of the 50% that do not carry coverage, plain and simple. How you present yourself to both groups can make or break your business, but there's more to it than that.
Say you partner with some insurance companies; we all know this means you're an in-network provider. But what about the ones you don't partner with? You're now also an out-of-network provider, so that begs the question, how do you capitalize on that?
Out-of-Network Doesn't Mean Out of Sight, Out of Mind
Out-of-network doesn't equate to out of business in terms of new patients. It just means you have to be a bit more creative to attract those patients and get them in the door.
Online & Offline Marketing is Key

You'll need to aggressively market to your patient population that falls out-of-network. Get creative and start employing some of the tactics we've already discussed in our series to get your name out there.
Make Yourself Dental Insurance Friendly
Even if you're not in-network doesn't mean you can't be "insurance friendly." You can still treat patients on plans where you fall out-of-network, but rather than bill through the network, you're billing the patient. Just think of it this way, you're working for the patient, and not the insurance company. To get in someone's good graces and convince them to use you versus an in-network provider, you need to think about your patient experience that we talked about in our last post. Again, out-of-network doesn't mean you can't see those patients. Do you really want to turn your back on 50% of the population?
Are You In-Network with Dental Insurance? Show It!
If you're paying to be in-network, you want to make sure you can be found! As an in-network provider, you're paying a 25% to 30% fee just to be in-network (consider this a marketing fee), so of course, you want to get that benefit in the form of new patients.
People care about their dentist being an in-network provider; studies have shown it has increasingly become more important to patients through the years.
Below are some ways to make sure you capitalize on your investment:
Detail on Your Website

People are turning to the internet to find out which dentists accept their insurance. So, what better way to take advantage of that than putting detailed insurance content on your website? That way, you can be searched when people are typing "dentists who use (insert insurance provider)" in their Google search bar. Gone are the days of people using a network directory on the insurance provider's website, so you want to make sure you can be found online.
Don't Forget Partnerships

Take advantage of your in-network status and partner at a major health provider in your area. Don't be afraid to go to a local company that offers the insurance where you're in-network and talk with their HR department, discussing how you can help them. The key for you to remember is awareness! That's all you need to spark interest around your practice.
You can set aside time to go to that company's headquarters and provide free dental health screenings. This can pay off by:
Building a connection with the companies' employees, which are your potential patients
Showing goodwill by providing this preventive visit at no cost, enticing them to use you if they need additional services
Positioning Yourself Properly is Key
Insurance may not be the sexiest tactic for generating new patients, but hopefully you now see how essential it is in your marketing plan. When you market yourself well and provide a positive experience, you can attract patients whose plans are out-of-network. Likewise, when you beef up your site and partner within your community, you can attract those patients in-network. Both strategies will work symbiotically to convert website traffic to patient appointments.
Now that we've covered the virtues of insurance, next up, we'll start diving deeper into the significance of the internet search.
---
About The Author
Tim Healy is one of the founders of TNT Dental, the #1 creator of custom websites and marketing strategies for dentists. Recognized as a leading expert in helping dental practices attract new patients, Tim has a true passion for teaching dentists the important "business stuff" they do not teach you in dental school. If there is anything Tim can do to help you, please do not hesitate to contact him directly at the office, (877) 317-4885, on his cell, (214) 680-1270, or via email at tim@tntdental.com. Of course, you can always visit www.TNTDental.com to learn more.