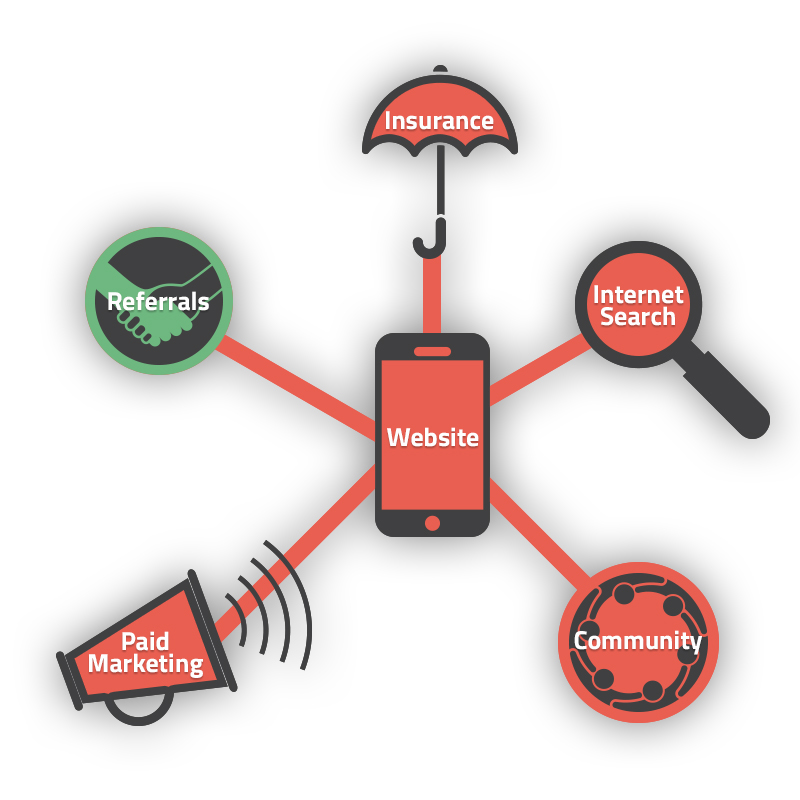 In our last blog post, Generating Patients for Your Practice using a Custom Dental Website, we focused on the importance of customizing your website to attract new patients. Now, we will discuss tangible ways to maximize your patient experience, which will directly impact your dental patient referrals.
What good is a customized website if people aren't looking at it? Over the next few posts, we will examine all the ways you can drive traffic to your custom dental website. The first step to accomplish this goal is through patient referrals.
The First Way to Drive Traffic to Your Website
People pay attention to what others think. If that weren't true, we wouldn't have celebrity endorsements, a la Matthew McConaughey telling us to drive a Lincoln or Peyton Manning singing the Nationwide anthem. Bottom line, people want to find affirmation that a product is good before they commit to it. And it's the same for dental services.
A good patient experience should lead to quality reviews for your practice. Think about Yelp; when you want to try out a new restaurant, isn't that one of the first places you check to see what other patrons thought? When there are good reviews for your business, people are more apt to consider you for their dental needs.
Some Things to Consider
If you're not getting referrals from your existing patients, then you're not running a good practice, plain and simple. Ideally, you should be getting 50% of your new patients from referrals. If that's not happening, you need to take a good long look in the mirror and ask yourself, "What am I doing wrong?"
---
How to Get Dental Patient Referrals: 3 Simple Steps
Getting dental patient referrals might seem daunting, but with a clear, defined path and action plan set, you'll find the task much easier and predictable. Setting your practice up for success is key, and ensuring everyone is doing their part is absolutely crucial. You must be coordinated and work together as a team!
1) Create a WOW Experience

What can you do to create a unique patient experience? What kind of things can you do to get people talking?
Ask yourself:
Is your front office staff really engaging your patients?
Do they close the sale for you and make patients feel comfortable?
Do you offer extended hours?
Does your staff have advanced clinical training?
By identifying that WOW experience for your patients, you are more likely to get people to write good reviews for you and refer you to their friends and family!
2) Have Good, Consistent, Up-to-Date Reviews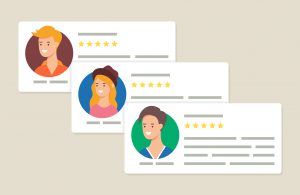 It's simple: good reviews = referrals for your practice. You don't want any old reviews, either. Encourage your patients to share stories, not 1-liners. And, you'll need to have a set, defined plan on how you're going to start racking them up.
Consider deputizing your best team member to identify patients with great experiences, and have a plan of action for them to carry out. Making it easy to leave a review directly from your website is key, as well, so you can point people to a simple-to-find area that leads them down a predicable path to those coveted 5-stars. You want to control where they leave their review and how they get there.
3) Thank Your Best Patients

When you have good patients, you want to thank them for their patronage. One good way to do this and solicit referrals is to send your best patients thank you cards, containing two branded gift cards – one for them, and one for their friends.
Some practices are getting 50% of their new patients from this method alone! What a way to engender good faith with your existing customers and help entice them to spread the word to get a new patient in the door.
Word-of-mouth is quite powerful. It can sink your business or keep you afloat. If you have people willing to testify to how good a practice you have, you can solidify a steady stream of new patients.
It's quite simple – provide a quality experience that gets people to talk about you, whether that be verbally or online, and you should be able to get those referrals. Those coveted referrals will then drive people to your website, which then hopefully gets patients in the door.
---
Make it Happen!
If you find that you need help in making the right steps to get referrals, or perhaps, creating that WOW experience, TNT Dental would be happy to help! In the meantime, please stay tuned for our next blog post on the important role insurance plays in growing your practice, and we will look forward to connecting!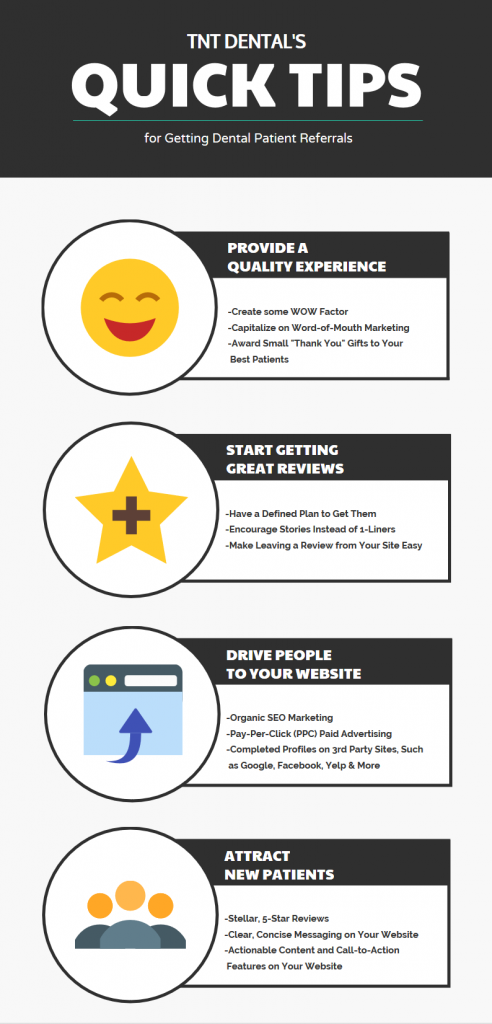 ---
About The Author
Tim Kelley is one of the founders of TNT Dental, the #1 creator of custom websites and marketing strategies for dentists. Recognized as a leading expert in helping dental practices grow, Tim is passionate about harnessing the power of online marketing to attract and keep new patients. If there is anything Tim can do to help you, please do not hesitate to contact him directly at the office, (877) 868-4932, on his cell, (972) 989-9137, or via email at tim@tntdental.com. Of course, you can always visit www.TNTDental.com to learn more.