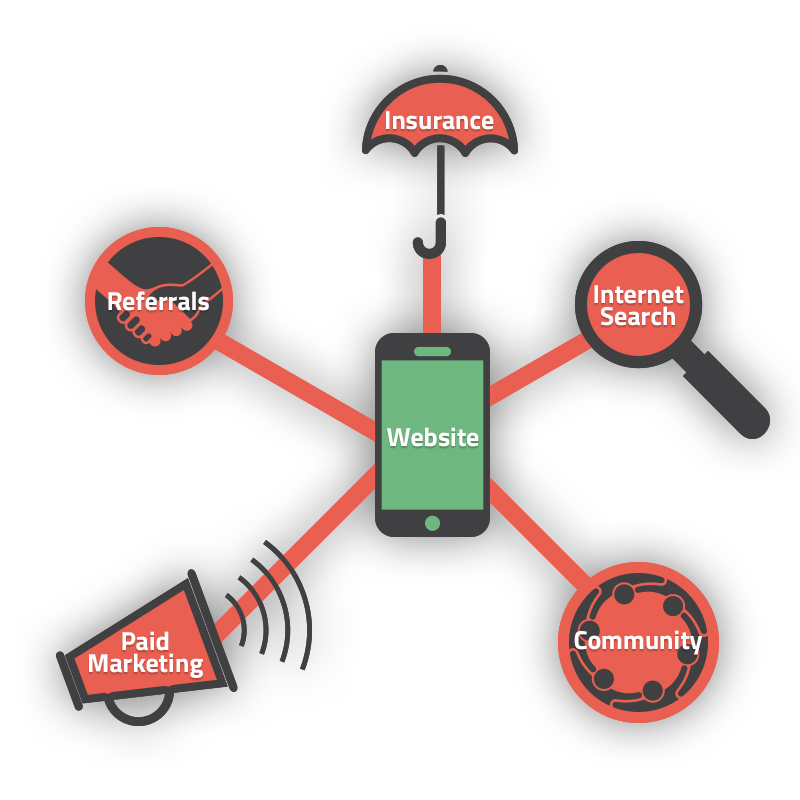 As we discussed in our previous post, How to Generate More New Patients for Your Dental Practice, there are several keys to attracting new dental patients. Here, we will begin to dig deeper into each section and find out how you can get more people in the door!
The foundation of enticing new patients is through a custom dental website. Does your website work for you? Is it unique and different from your competitors? Does it effectively tell your story in a way that is not only compelling, but attracts the kind of patients you want to see and build your practice on? If your website is telling the wrong story, it's time to start exploring ways to change that now.
A Custom Dental Website is Key
A website is your main conversion tool, and when used effectively, it can turn visitors into new patients. Building a website is the first step you need to take in your practice's marketing efforts, but having just any old website will not do. You need to build a customized website to set yourself apart from competitors and attract the right kind of patients.
In a 2016 Vistaprint study, 45% of people are unlikely to buy from a business with a poorly designed website.
Your website needs to capture a visitor's attention quickly, and you've got anywhere from three to five seconds to convince them to scroll and learn more. Let's call it your elevator pitch. That's right—you've got as much time to "get" your patients as it takes to blink your eye.
Not only do you need to think about telling your story effectively, but you must consider these 4 elements in building your site:
1) Mobile View
About 60% to 70% of viewers coming to your site are looking at it on a mobile device, and it's imperative you make your website mobile-friendly to ensure they stick around. This means the overall user experience needs to be easy and intuitive—text must be large and legible, the menu has to be simple to navigate, and making it easy for visitors to find the information they're seeking is crucial.
2) Differentiate Yourself
What sets you apart from your competitors?
Early, late or weekend appointments?
Superior training?
Spa-like amenities?
Specialization in one or more areas?
Whatever your Unique Selling Proposition is, highlighting those differentiating factors front and center on your website is key! Someone is bound to be looking for what you offer, but they won't know to give you a try if your story isn't clear, concise and easy to follow.
Don't forget, people are tuned in to station WIIFM – What's In It For Me? If you provide them something they want, you could have a patient for life.
3) Easy Conversion
You've got to make it easy for people to view your website and act. You should always have one-click buttons on your site that are easy to find and allow people to:
Call your office
Request an appointment
Fill out a form
Pull up maps with directions to your office
In this day and time, people want information… and, they want it NOW. Making contacting the practice easy could mean the difference between keeping someone on your site and converting them into a new patient—or frustrating them to the point of clicking the next office on Google's search results.
4) Customization
To go back to where we started, you should have a customized look, feel, and content to your website. Again, this not only sets you apart, but also does so much more. Your story is unique to you, so don't hide it! The more customized your site is, the better. Google places importance on fresh, unique content and will index your site quicker than your competitors. In no time, visitors will begin to click your pages when searching for dentists in their area. Customization is key!
You Can Afford This!
You can have a customized website that is mobile friendly, sets you apart from your competitors, and has all the elements to convert visitors into patients quickly, but you wonder, "How much will this cost me?"
Good news – you can get all of this for $150 to $250 a month! Just think, if you spend $40,000 to $50,000 a year on marketing efforts, even at $250 a month for website design and maintenance, you're talking about 6% of your total budget to ensure you have a stellar website. If you're paying more than that, you're wasting money.
Now that you know the foundation to attracting new patients is in the website, we will begin delving into ways to get eyeballs onto your site in our next set of blog posts. Just remember, it's a complete waste of time and money to pursue these other avenues if you don't have your foundation: the custom dental website.
---
About The Author
Tim Healy is one of the founders of TNT Dental, the #1 creator of custom websites and marketing strategies for dentists. Recognized as a leading expert in helping dental practices attract new patients, Tim has a true passion for teaching dentists the important "business stuff" they do not teach you in dental school. If there is anything Tim can do to help you, please do not hesitate to contact him directly at the office, (877) 317-4885, on his cell, (214) 680-1270, or via email at tim@tntdental.com. Of course, you can always visit www.TNTDental.com to learn more.