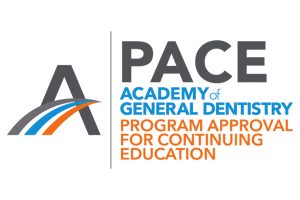 When an accrediting organization certifies a company, practice or institution, it lends a certain legitimacy and validation to that particular entity. Companies don't put themselves through the process just to make themselves feel better; there are many benefits to being certified. Recently, the Academy of General Dentistry certified TNT Dental through their Program Approval for Continuing Education (PACE). TNT is now the only PACE-approved organization with an 18-year track record of helping dental practices grow. And, we are in a unique position to share this expertise with you.

What TNT's Certification Means for You
TNT's certification as a PACE-approved organization provides immediate benefits to our clients. Along with having the ability to offer valuable CE credit hours, we have put together an incredible array of programs. From our comprehensive, full-day seminar focused on starting a practice from scratch to 1-hour mini-sessions on topics ranging from The 10 Keys to Effective Websites to The Basic Principles of SEO, we are ready to share.
As you know, continuing education is vital to all dentists. While there are numerous, exceptional clinical programs available, we believe our exclusive focus on growing dental practices adds something to the mix. From sessions at local Seattle Study Clubs to presentations at major dental conferences, no venue is too small or too big. If dentists (and their staff members) are serious about learning, we will be there.
As a TNT Dental client, you are at the front of the line. Armed with over 18 years of dental industry experience, the Tim's are ready to come to you, anywhere in the country, and provide an interactive, fast-paced program that is sure to benefit everyone involved – CE hours included.
---
The PACE Certification Process
Certifications aren't just handed out haphazardly; companies must go through an arduous process in order to attain their certification, and TNT Dental is no different. If you are interested in becoming certified, you must first determine if you want to apply for a local or national certification. Since TNT serves clients across the country, it was fitting for us to apply for national approval, so we can provide continuing education credits to our clients and their contacts in any state!
One thing to keep in mind is that the council reviewing all applications is basing their approval or rejection on the 13-page application, testimonial, vote of confidence and all other additional documentation submitted. Unlike an accreditation process, site visits aren't required, but that means you have to bring your A-game to the application.
Anyone who thinks they can just rip through this without much forethought will be sorely mistaken. Additional documentation you have to compile ranges from providing your written policy ensuring your CE activities include scientific basis for content to submitting your company's mission and both organizational and long-term goals related to the CE program to delivering a statement on the needs assessment of future audiences, among other components. Couple this with the application across 12 different standards, and you realize you are providing a thorough, comprehensive assessment of your organization and defending why it is worthy of this designation.
---
What Certification Means for Approved Providers
Once you're approved, you receive many benefits for your PACE-approved status. According to the AGD website, as an approved organization, you are "demonstrating your commitment to develop and deliver high-quality, scientifically-sound training that adheres to the AGD's nationally recognized standards." Certification provides organizations the ability to be recognized by dental licensing boards across the country. PACE-approved entities also promote excellence for dental professionals; by earning CE credit, providers can earn Fellowship and Mastership awards. The AGD also externally promotes your organization, and this certification allows you to stand apart from your competition by offering this service
---
Ready to Expand Our Relationship
You have to admit, once you know a company is certified, it shines a different light of validation on them. In our case, we hope you are willing to consider us a little more of an authority. TNT Dental is proud of our AGD certification, and we are looking forward to sharing our knowledge with our clients. If you are part of an association, organization, conference or informal group that can benefit from our commitment to helping others learn, contact us today. We are eager to expand our relationship with you and anyone you deem worthy.
---
About The Author
Tim Kelley is one of the founders of TNT Dental, the #1 creator of custom websites and marketing strategies for dentists. Recognized as a leading expert in helping dental practices grow, Tim is passionate about harnessing the power of online marketing to attract and keep new patients. If there is anything Tim can do to help you, please do not hesitate to contact him directly at the office, (877) 868-4932, on his cell, (972) 989-9137, or via email at tim@tntdental.com. Of course, you can always visit www.TNTDental.com to learn more.