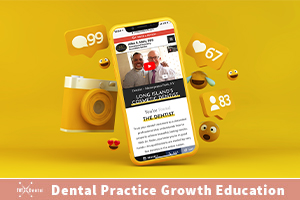 Now that you've learned the basics of social media for dentists, it's time to consider a deeper dive into some strategy.
In the next installment of our Keys to Effective Social Media for Dentists, we're looking at the kinds of activities you need to be doing on social media on a weekly and monthly basis to get the kind of patients you want coming through your doors.
---
Your Dental Practice Needs to Get Reviews
The one key measure on social media for businesses is getting reviews. When you can capitalize on good reviews from your current patients, it's a surefire way to help recruit new patients to your practice. Our "Why Your Online Reputation Matters" article stressed the importance of online reviews. When patients are looking for a new dentist, they are going to read the reviews… so, take advantage of this free and easy way to boost your presence online by getting your current patients to write kind words about your dental practice!
The standard rule of thumb is to get one review per week on either Facebook or Google. But, you can't stop there – as reviews roll in, you must respond to them… good, or bad. It is critical you follow up with reviews to demonstrate engagement with your followers.
---
Custom Facebook & Instagram Posts for Dentists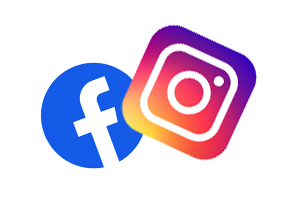 You should budget in one custom Facebook and Instagram post per week. And, this isn't just a standard clinical dentistry post (no retractor or treatment photos here!). This is the part of the marketing where you make your team real.
As an opportunity to tell potential patients about your practice's people, customized social media posts lead to making connections with others in the community.
You can take your dental team's interests and make them real.
Think of it this way: if you have an avid reader on your team, you can have a book review section; if there is a pet lover in your midst, establish a pet lover network with a local rescue; or, if someone in your practice is a golfer, think of this as a way to connect with local golfers!
It is all about bringing people with similar interests as your team members to your practice. After all, people want to do business with companies that have their same interests. It helps establish a bond, and you can get a new patient out of the deal!
---
Find Organizations with Similar Interests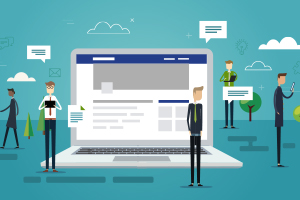 Now is the time to find 10 to 12 organizations with the same interests as your dental team members. This could be where the type of patients you're looking for are hanging out! It could be a yoga studio, holistic learning collective, natural foods stores, or even craft brew groups. Look for organizations with an active social media presence (otherwise, it doesn't do you any good to follow them).
The key – you must be an active follower of those pages from your dental practice page. It is important to build your presence and identity within that group, and you do that by engaging with the group from your practice's page. By sharing their content and liking their posts, you're creating familiarity within the group — and hopefully, new patients!
---
Work on Your Dental Practice's Google My Business Posts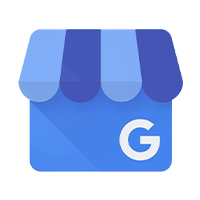 You also need to give some love to your Google My Business page and aim to create two posts a month on this platform. The posts and updates section of your Google My Business page drives Search Engine Optimization (SEO) and can lead to more visibility to your page. Just update the page with posts on useful, clinical information patients want to know — such as safety protocols in the COVID era, or teeth whitening. Sit back and watch the patients start coming in!
---
Update Your Google My Business Q&A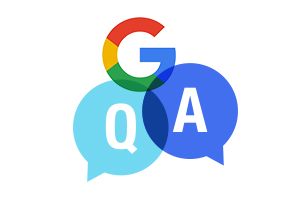 You're working on your bi-monthly posts on your Google My Business page, but don't leave your Q&A section out in the cold! It is important to freshen up your questions and answers section for the benefit of any potential patients checking out your page.
Stumped for ideas? Ask your dental team to share the questions they receive from patients each day, and use that as material for your Q&A section. While it's important to think about Q&A for Facebook, too, remember these big differences between the two platforms — Facebook should be more people-focused, and Google My Business should include more clinical/dentistry-based content. Be sure to tailor your Q&A accordingly!
If you can put these five practices into motion on a regular basis, you will start to see the fruits of your labor in the form of new patients to your practice. And, not just new patients, but the kind of patients you're looking for!
When you're ready to start looking through your marketing plan and incorporate these tasks into your to-do list, don't forget to reach out to our team here at TNT Dental. From there, we can help you identify the best ways to adapt your social media strategy and start making these items part of your regular habits. If you're interested in learning more about what else you can do to translate your social media strategy into success (and most importantly, patients!), check out our last article in the Keys to Effective Social Media series to learn about ways to engage with social media on a project-basis.
---
About The Author
Tim Kelley is one of the founders of TNT Dental, the #1 creator of custom websites and marketing strategies for dentists. Recognized as a leading expert in helping dental practices grow, Tim is passionate about harnessing the power of online marketing to attract and keep new patients. If there is anything Tim can do to help you, please do not hesitate to contact him directly at the office, (877) 868-4932, on his cell, (972) 989-9137, or via email at tim@tntdental.com. Of course, you can always visit www.TNTDental.com to learn more.