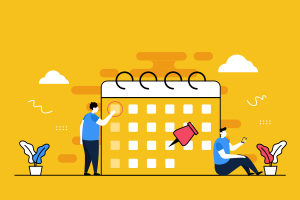 As we head into the back-end of 2021 and continue moving toward some form of normalcy, it's time to start planning your 2022 marketing strategy. At TNT Dental, we help our clients think about practice growth objectives and steps they can take to get from their goals to accomplishments and successes. Developing a comprehensive marketing plan for your dental practice is one of the steps to achieving those goals… but, laying the groundwork for that marketing strategy starts now.
This is the first article in a four-part series about how to build your dental practice's marketing plan successfully for next year.
---
Creating Your Dental Practice's 2022 Marketing Plan
Setting Goals
The first step in the process of planning your dental practice's 2022 marketing strategy is setting your goals. How can you build a marketing plan if you don't know the expectations you have for yourself and the objectives you hope to achieve? When you embark on your goal-setting venture, it's important to consider several factors…
---
How Many
Active Dental Patients

Do You Want at the

End of 2022

?

Think about the number of dental patients you currently have and how many active patients (remember: how many patients who've been in your office in the past 14 months) you want by the end of 2022.
So, for instance, if you have a practice with 1,500 patients and hope to expand at a healthy pace to +10% growth, you're looking to end 2022 with 1,650 patients.
---
Look at Your Dental Patient Attrition Rate

Next up is looking at the attrition rate of your dental patients to determine how many you're losing. Attrition is defined as someone who hasn't been back to your practice in 18 months — whether that's because of transfer, death, or any number of reasons.
If you remember from some of our previous articles, we've referred to this as how you need to "close the backdoor." Your practice's dental patient attrition rate is the one piece of the marketing plans most tend to avoid, but it's critical to determine this number so you can figure out how to curb the loss.
Attrition rates can vary based on the practice's success. The worst dental practices have a whopping 50% attrition rate — in comparison with the very best dental practices, which operate at a 10% attrition rate. The typical practice comes in at a 20% attrition rate.
In our 1,500-patient practice example, think of your attrition rate in the average category. With a 20% attrition rate, that means you're losing 300 patients a year.
---
How Many
New Patients

Do You Want at the

End of 2022

?

It's one thing to think about your number of active patients, and how on the opposite end of the spectrum is the number of patients you're losing. Ask yourself, though: how many new patients do you want to bring into your practice? It costs more to bring in a new patient than to keep a current one, so you want to make sure to know this number!
Again revisiting our 1,500-patient practice example, if you want to reach an active patient number of 1,650 by the end of 2022 (adding 150 more patients), you're growing at the reasonable rate of 10%. Factor in a 20% attrition rate (which equals 300 patients in this scenario), and you can see that you actually need 450 new patients to meet your goals. At 450 new patients a year — that breaks down to 37 patients a month.
---
How Many
Net New Patients™

Do You Want at the

End of 2022

?

Think about your active patient base number. If you want to grow, you need to be monitoring this number (AKA, Net New Patients™) each month. The next question to ask yourself — is your dental practice growing? Just like attrition, your practice growth rate will range according to the practice's dynamics. While the average practice sees 1-2% growth year-over-year, a healthy practice can grow at the rate of 5-10%!
If you have your active patient number, your attrition figure, and your new patient goal, you can determine your Net New Patients™. Taking our 1,500-patient practice example… if you need 37 new patients a month, but you're losing 25 to attrition (remember, that's your 300 patients lost a year, broken out into a per month basis), you need to set your goal for 12 Net New Patients™ a month. It's critical you track this number each month, and if you can hit that mark, then congratulations — you'll hit your goal!
---
Determine Other Dental Products & Services You Can Offer

Consider any other dental products and services you want to emphasize in your practice's 2022 marketing. This will help you to attract new patients and close that back door. These can range from services such as teeth whitening, frenectomies, orthodontics, and sleep apnea… just to name a few.
Just remember, it's never too early to start thinking about the future — and as you begin planning for the next year — start laying that foundation for your 2022 dental practice marketing efforts. A lot of money can sink or swim in marketing, and you want to make sure your plan is working for you. By beginning to think about this now, you can account for any items you need to purchase or training you need to take to achieve your goals.
The next article in our series will cover setting a plan to manage attrition, followed later by how to hit your new patient goal.
If you need help setting your goals and building your marketing strategy for the next year, contact the team at TNT Dental! We can help you figure out your wants, needs, and put a plan into action.
---
About The Author
Tim Kelley is one of the founders of TNT Dental, the #1 creator of custom websites and marketing strategies for dentists. Recognized as a leading expert in helping dental practices grow, Tim is passionate about harnessing the power of online marketing to attract and keep new patients. If there is anything Tim can do to help you, please do not hesitate to contact him directly at the office, (877) 868-4932, on his cell, (972) 989-9137, or via email at tim@tntdental.com. Of course, you can always visit www.TNTDental.com to learn more.