By now, you've heard about the benefits of adding custom dental video to your website, but that doesn't happen on its own. It takes the work of a dedicated team to take your story and effectively tell it using video.
Ryan Shelby leads TNT Dental's on-site Videography Team. Along with three shooters/editors and one coder, they work with our clients to create custom video that tells a practice's unique story. The videographers work with the entire office, from dentists to staff to patients, capturing what makes the practice special.
Once we have what we need, we come back to TNT HQ and work with the SEO and marketing teams to optimize the videos. Integrating them into an ongoing marketing strategy helps get the practice found on Google, and more importantly, connects on a deeper level with new patients visiting the website.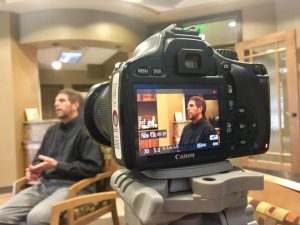 But, before all of that happens, there is work to be done, and Ryan and his team are the ones to get that process started. "It sounds simple, but there is no such thing as too much preparation before a video shoot," he says.
In order to execute a seamless video shoot, TNT will hold a series of phone calls with you and your practice in order to plan and organize the shoot's events. A good producer knows the type of content they need and formulates their questions accordingly. The practice is provided sample questions and clear instructions on what to expect. A good amount of communication and flexibility are necessary to make the day as easy as possible for everyone involved; if you want more control over your day's flow and the shoot, the team at TNT is ready to accommodate that.
---
Get to Know the Team

We're an eclectic bunch originally hailing from various areas across the US including Boston, New York and Dallas
Final Cut Pro vs. Adobe Premiere Pro is a ripe topic sure to ensue long-winded debates
Pun Master is an award we give out to one another, and the selection process is rigorous
My Office is Always Busy – How Can I Do a Video Shoot?
The prospect of a busy office is no deterrent for the Videography Team; in fact, it inspires them! Ryan says, "A well-run office where things are humming and everyone is on their game has a wonderful electricity to it. We want to capture that energy and excitement."
Our team at TNT Dental will work around dentists' schedules; they'll tailor their shoot around whatever makes it easiest for the dentists and their teams. If that means they need to shoot before patients arrive or after they've left, the team will gladly do it; the end goal is to showcase the practice in the best way possible.
---
What TNT's Videography Team Does

Conducts pre-production phone calls to plan the shoot
Captures video of the practice, dentists and staff
Edits material into stories, aligning with pre-produced scripts and/or storyboards
Codes the video and user experience to capture patients' attention
But What if I'm Not a Pro on Camera?
No need to worry if you have stage fright; the team at TNT Dental will guide you through this! Our team understands that most people haven't been in front of a camera, but will take that and turn it into a great product. Our videographers want the interview to feel natural; it comes across as more authentic to the viewer. You know that preparation we talked about earlier? This is where this comes in handy – if you're apprehensive about going on camera, the team's expertise in working behind the camera and understanding of the dental industry means they can guide the interview across any issues they might encounter.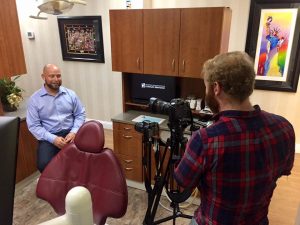 Don't forget, the editors can take any footage they shoot and make the magic happen in the editing booth. Our team will take the best moments of each patient interaction to tell your story. Once that foundation is laid, then music and graphics are weaved into the video to create a compelling product. Just know that you will be involved in the process every step of the way; you get a look at each video as it's completed. It's our way of making sure you're satisfied with the final product before anything is posted publicly.
---
What Videos Does My Site Need?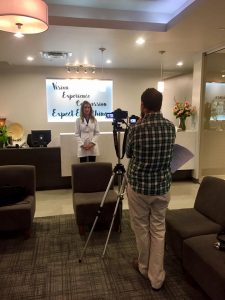 Your website should include four types of videos:
Welcome video – features the voices and faces that make up the office
Dentist biography – introduces viewers to the dentist and find out more about them, as well as present the dentist's philosophy of care
Patient stories – highlights the dentist's favorite patients and find out why they keep coming back. People love to hear from someone they can relate to, and will trust a peer before an expert. Capturing your patients' stories shows new patients what they can expect from the beginning of a visit until the end.
FAQs – educates prospective patients on the most popular procedures
---
Ryan's Personal Accomplishments

Received BA degree in Radio, Television & Film from the University of North Texas
Over 11 years of video production experience
Is it True Video Can Help my SEO?
Absolutely! Videos serve double duty when it comes to being found online; they show what you say and what you see, broadening your chances of being found by new patients. YouTube is just as important as Google to helping you attract new patients and be discovered online. Ryan says, "Video not only separates you from your competitors, it completes it to form the whole picture."
---
"We love our job because we are privileged to help every client tell their best story."
Video is Important to Your Website
By taking the step to incorporate video into your site, you're saying you're ready to make your website more dynamic and engaging to the viewer. According to Jones PR, users spend 88% more time on a website with a video, and that includes your site! As the dental profession progresses to a more digital industry, video can show the positives of each office. Your story is conveyed much more effectively than through just text and pictures. At the end of the day, making the choice to add video is completely worth it. As Ryan says, "When done well, they strengthen the bond with the client and create a library of marketing materials that help grow the practice."
---
Ryan and his team at TNT transform your story into an engaging product through the help of video. If you're ready to engage your patients and land yourself atop the search engine rankings, give us a call at TNT Dental today!
About The Author
Tim Kelley is one of the founders of TNT Dental, the #1 creator of custom websites and marketing strategies for dentists. Recognized as a leading expert in helping dental practices grow, Tim is passionate about harnessing the power of online marketing to attract and keep new patients. If there is anything Tim can do to help you, please do not hesitate to contact him directly at the office, (877) 868-4932, on his cell, (972) 989-9137, or via email at tim@tntdental.com. Of course, you can always visit www.TNTDental.com to learn more.