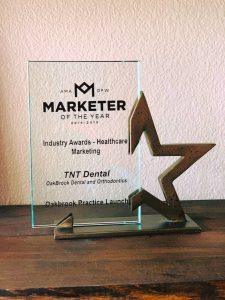 TNT Dental was recognized as the 2019 Marketer of the Year for Healthcare by the Dallas/Ft. Worth chapter of the American Marketing Association based on their work with OakBrook Dental and Orthodontics. A startup practice in McKinney, TX, a notoriously saturated market, TNT enabled OakBrook to get 90 new patients and earn over $100,000 in revenue in a single month within the practice's first year of operation.
TNT Growth Leader Lindsey Beckert and OakBrook were able to accomplish this thanks to an aggressive strategy that focused solely on digital marketing. To build the brand of OakBrook as a family-friendly, high-quality, and affordable practice, TNT created a video-enabled, mobile-responsive website from scratch, ran organic and paid search campaigns, and launched unique landing/conversion pages designed to attract patients to specific services, such as emergency dentistry and Invisalign. These efforts purposefully led to valuable word-of-mouth, generating more than 100 positive Google and Facebook reviews, helping OakBrook become one of the top-rated practices in their market very quickly.
Drs. Nathan and Christine Coughlin at OakBrook were able to get constant updates and see exactly how effective their marketing was at every step of the process. With an overall marketing budget of $45,257, OakBrook generated a net revenue of $710,518 for all of 2018, meaning each dollar of marketing yielded $15.70 in profit.
Beckert and fellow TNT Growth Leader Jordon Baker submitted OakBrook's case study to the DFW AMA in March 2019, competing with over 30 other marketing companies, including entries from Nokia and the YMCA.
Founded in 2000 and based in Richardson, TX, TNT Dental is a custom-website creator and digital marketer for dental practices both in the U.S. and abroad. Their mission is to help dentists grow their practices in the ever evolving digital world by utilizing the latest strategies and creating campaigns that are completely personalized for each client. To learn more about TNT Dental and see more examples of their award-winning work, visit https://www.tntdental.com/.