Case Acceptance for Complete Care without Losing Patients to Sticker Shock
Presented by Dr. Paul Homoly & TNT Dental
In our latest installment of the TNT Marketing Education Series, Dr. Paul Homoly shared his secrets of "Case Acceptance for Complete Care without Losing Patients to Sticker Shock."
Dr. Homoly's 20 years of experience in implant and restorative dentistry gives him a unique perspective on case acceptance.
Now, he's providing some tips on how to navigate an important issue that plagues so many dentists across the entire world.
With an emphasis on behavioral processes in the practice of dentistry, he's able to help dentists shift their thinking on how to get patients to buy in and accept treatment.

---
Education and Approach
With case acceptance comes a level of education.
You have to have a foundation to build from when you're talking with patients – this is something most everyone agrees upon.
That said, the approach in getting there and the level to which that patient education happens can vary, based on the type of patient you're working with, necessitating a couple of different approaches to treatment discussions.
---

The Inside-Out Approach
to Dental Case Acceptance
The Inside-Out Approach to case acceptance is the most commonly used method by dentists. Dentists assess what's going in a patient's mouth and start working their way outward to patient buy-in on treatment. The first priority is determining what's wrong and then educating the patient as to why they need treatment, with not a lot of regard to the outside factors in play in a patient's life.
---
The Outside-In Approach
to Dental Case Acceptance
Dr. Homoly suggests inverting this method though and starting to think of the Outside-In approach instead.
This method helps dentists not lose patients to sticker shock! This approach means a little more work on the front end; dentists must take the time to cultivate the relationship and get to know their patients. This includes learning about their budget, family, health, life events, schedule, etc. Only then, can you build that rapport, get the patient buy-in and increase your chances of case acceptance!
---
Left-Side and Right-Side Dental Patients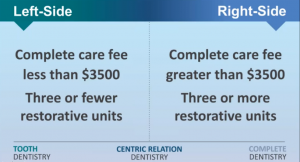 It's time to start looking at your patients as left-side and right-side. What does this mean? You can typically categorize these type of patients as the following:
---
Left-Side Dental Patients

Young
Minor conditions
Minor Disability (meaning less emotional component associated with the condition)
Minor Fit Issues (it's easier to fit treatment into their lives)
Patient Education is the key to these types of patients to accept treatment
Ready for Care
---
Right-Side Dental Patients

Mature
Major conditions
Major Disability (meaning more emotional component associated with the condition)
Major Fit Issues (it's harder to fit treatment into their lives)
Understanding is the key to these types of patients to accept treatment – YOU have to understand their situation to get their buy-in!
Not Ready for Care
---
Don't Forget the Finesse
Just remember, TNT can help you craft marketing strategies to stay in front of your right-side patients.
They will typically take a bit more finessing to get them to case acceptance; whereas, your left-side patients are more apt to accept treatment within that first visit.
TIP! By training your staff and having them talk to the patients upon scheduling a new appointment, they can help you determine if someone will fall in the left-side or right-side category.
---
Let's take Christine —
A New, Right-Side Dental Patient…
Start with the Four Chiefs – this is a conversation you have with new patients; it occurs before any clinical procedures
Chief Condition = inquiry into the patient's mindset/what is their complaint?
Chief Disability = How does this hinder their lifestyle?
Chief Benefit = What is the advantage of taking care of this? It's the opposite of the disability
Chief Fit Issue = The life circumstances we have to acknowledge for the patient to accept treatment
In the case of Christine, she knows her front teeth are a problem, but it's up to you to start thinking of how your patient's condition interferes with their lifestyle. Christine wants her teeth to look good for her daughter's wedding, so you now know the benefit!
---
Helpful Tips With Right-Side Dental Patients
Curiosity may have killed the cat, but it will help you learn what you need to know about these right-side patients to help get them across the threshold to case acceptance.
As you hand off the patient to your hygienists for the clinical examination, you can chart this information you learned from your conversation
Assemble the Case Conversation Planner for the post-examination discussion

Just remember, the sequence of influence in the post-examination discussion is almost never the sequence of treatment!
---
Now, You're Speaking My Language
Something to keep in mind as you navigate this process is that you must know patients' behavioral benefits and fit issues in order to avoid losing them to sticker shock. By the time you reach the post-examination conversation, you're armed with what you need to engage the patient into talk of their treatment. Remember, this is intended to be a two-way conversation, not a speech of what you're instructing them to do.
Keep the sales pitch down for maximum impact.
Items to Address in Your Planner
Benefit
Fit
Issues they're concerned about (learned from the examination)

As you find the conditions, you must provide them to the patient, to:

Make them aware of it
State the consequences if left untreated
Find out whether they're concerned about those consequences

When you make those recommendations, use words like, "I know you're concerned about…"

Issues they're not concerned about (discovered in the examination)

When you make these recommendations, use phrases such as, "I know you're not concerned about this, but I just want you to know…"

Advocate hand-off (this is someone who gives patients a sense of someone intended to help them with their treatment, make the decision, etc.) – have this person in the room with you during the post-examination discussion
---
Conversation is Key
Remember, during your conversations, it's important to reiterate that you are listening to them.
Using phrases such as, "I understand you," tells them you're hearing what they're saying and applying it to their situation.
At the end of your conversation, you have the consent conversation and then leave the room, so the patient and advocate can talk.
Only once they're done should you come back into the room and do an informed consent, covering the benefits of treatment, risks, alternatives, etc.
This is the patient education part of the treatment.
---
Final Wrap-Up
By taking these steps, you're providing complete care. You're presenting treatments to cover both the concerned and unconcerned conditions to the patient, and only through taking that extra time, are you able to retain those patients (particularly the right-sides ones!) in light of the overall cost.
Just remember, in the event you need follow-up appointments to help cultivate that relationship with your right-side patient and need to stay in front of them, work with the experts here at TNT Dental to adapt your marketing strategy to stay on those patients' minds!
---
Dr. Paul Homoly is considered a leading voice on topics of case acceptance for complete dentistry, practice development, and influential communications. With over 23 years of providing continuing education for dentists, he is passionate about helping dentists do the work they love and best serve the patients. Learn more about Dr. Homoly and how he's transformed dentists' practices through his works by going to
https://paulhomoly.com/
.