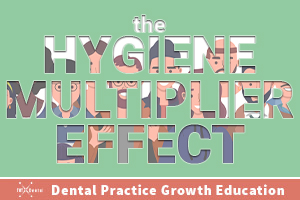 By now, you know about the four phases of practice growth, but one method to growing your practice may be something you've not considered…but is right under your nose (literally).
A solid hygiene program accounts for about 30% of revenue in most practices!
It's a part of your daily routine, so let's look at how this can be a revenue generator for your practice.
---
What Focusing on Dental Hygiene Production Can Do For You
Hygiene plays an important role in…
---
Building Confidence with the Practice

Your patients spend more time with your hygienists than they do with you. After the front-office staff, the hygiene team is the clinical first impression for patients; it's here that patients get a glimpse of your practice!
---
It's a Relationship-Builder

When your patients are in the chair with their hygienist, they're usually not just talking shop; your hygienists are cultivating a relationship with their patients. This creates a sense of familiarity and comfort between your patients and practice, which can translate to active patients and better yet, good referrals!
---
Introduces Dental Patients to Treatment

Through that relationship building, your hygienists also develop trust with your patients. If your patient needs treatment AND trusts your hygienist, you inherently have that buy-in when your hygienist recommends that treatment.
---
Follow the Numbers…
If you're looking at opportunities to grow your hygiene department, it's time to start looking at the numbers. First, assess how many patients are in active hygiene programs, and then consider the ways to grow your hygiene department:
Get more people in active hygiene programs
Generate an increase in treatment dollars per appointment
Both of these tactics improve the standard of care for your practice, which leads to revenue generation.
Consider this – per Dental Intel, here's how a hygiene multiplier effect works:
In a practice with 2,000 active patients, if 70% of your patients are in a hygiene program, that equals 1,400 patients. Those 1,400 patients amount to 2,800 hygiene appointments a year. At an estimated $152 spent per hygiene appointment, your practice earns approximately $425K from hygiene.
But, there is a $300K revenue opportunity waiting for you IF you enhance your hygiene department!
If you can get 85% of your patients enrolled in an active hygiene program, that amounts to 1,700 patients in a 2,000 patient practice. If you can generate $209 in production per appointment, that amounts to $710K in revenue from hygiene alone!
---
How Does that Happen?
You might be wondering how you can up that revenue generation by $300K – unless the tooth fairy works in business settings, it doesn't just magically happen.
---
Increase the Number of Appointments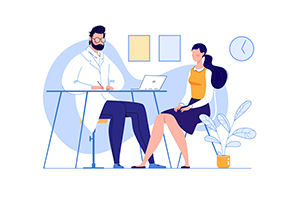 At the end of the day, you need more patients to come back, and one of the ways to make sure you strike while the iron is hot is to schedule patients' appointments while they're still in the chair. At the end of their hygiene appointment, have your hygienists go ahead and get them on the books for their next biannual cleaning. It's one less stop for patients as they head out the door!
If you can't schedule from the chair, it's important to remember our recommendations for a separate follow-up system to capture those patients and get them scheduled. First, try to reach out and get them scheduled for that next appointment within 30 days of their last visit, but if that doesn't work, try to reach them by five months out – you want to get them back in within that six-month window.
Finally, communicate with your patients via email or text. This is an opportunity to share helpful information with your patients. If you do that and they know they are getting valuable information from you, it might just be the reminder they need to pick up the phone when you call or initiate that conversation to get their next cleaning scheduled with you!
---
How to Get Increased Numbers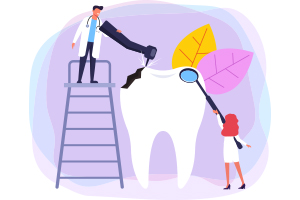 Gather your team and start building a prevention campaign — this enables you to contribute to defining the standard of care for your practice.
As part of that effort, ask your hygienists to start encouraging these kinds of treatments to your patients:
Fluoride
Dental Sealants
Oral cancer screening
---
Using Technology for Oral Cancer Screenings

About 20% of Dental PPOs will pay the premiums if you're using oral cancer testing with certain equipment in your practice. Some insurance companies may even reimburse you at a high level for using certain equipment for the testing – so check your insurance policy!
---
Increasing Frequency of X-Rays

By x-raying patients' mouths at every other appointment, you can get an extra $80 from those two appointments. Just don't let it lapse – if you drop that to every three visits, that goes from $40 revenue per appointment down to $26 in revenue for that same appointment. That's money down the drain!
---
Leveraging Hygienists for Teeth Whitening

Just make sure your hygienist has a separate chair/room to do their work, so it's not taking up a dentist chair.
---
Performing Active Periodontal Checks

Have your hygienists do regular periodontal checks. According to Dental Intel, most practices have 14% of their patients enrolled in an active perio program (seeing them every three to four months), BUT the best practices maintain 31% of their patients in that same program. It pays to put perio top of mind for your patients!
---
So, if you're ready to establish some goals for growing your practice, look no further than your hygiene department. There's so much opportunity and growth right there. You already have patients coming in each day to take part – now's your time to take it to the next level! Don't forget, there's an extra $300K in revenue up for grabs by capitalizing on the hygiene multiplier, so give us a call at TNT Dental today and let us help you achieve those goals!
---
About The Author
Tim Kelley is one of the founders of TNT Dental, the #1 creator of custom websites and marketing strategies for dentists. Recognized as a leading expert in helping dental practices grow, Tim is passionate about harnessing the power of online marketing to attract and keep new patients. If there is anything Tim can do to help you, please do not hesitate to contact him directly at the office, (877) 868-4932, on his cell, (972) 989-9137, or via email at tim@tntdental.com. Of course, you can always visit www.TNTDental.com to learn more.