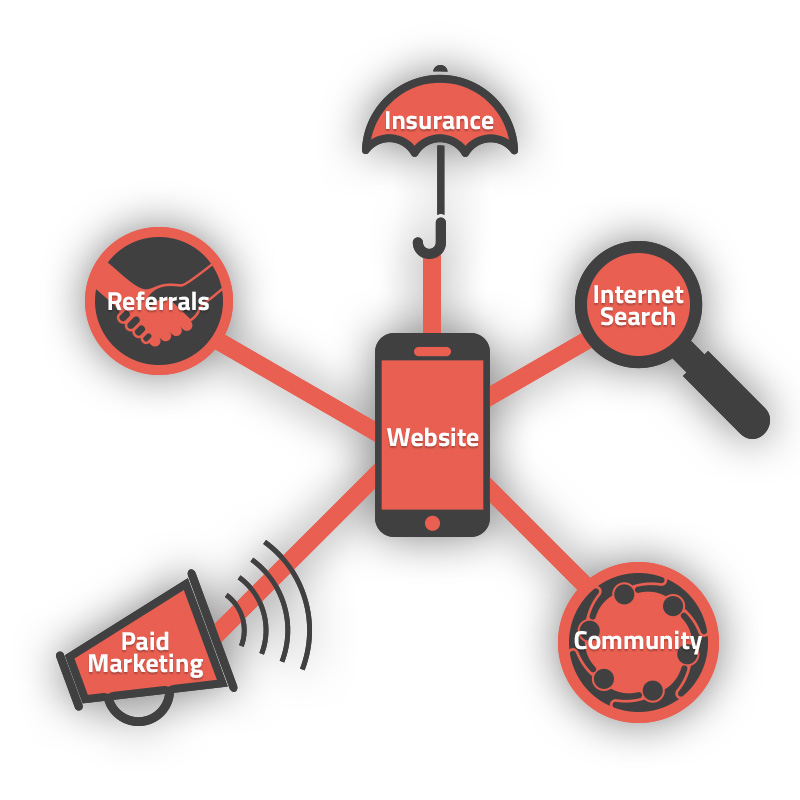 You run a dental practice, and you've got a steady stream of dedicated patients. But, the last piece of the puzzle is missing. You wonder how you can get more new patients in the door and to become a part of your family… how exactly that can be achieved is easier said than done. As Bob Dylan said, "The times they are a-changin'," and that rings true for how you market your practice to be more appealing to new patients.In this post, we'll share our secrets to success, to help you attract those new patients, and then follow it up with a series of posts, delving into each area a bit more. By the time it's said and done, you'll be armed with the tools you'll need to succeed!
Increase Your Online Visibility
The world is moving in a digital direction… and to keep up with the Joneses, you have got to have a visible online presence. This means polishing your social media business pages on Facebook and Google+, and maintaining a solid website.
According to a 2016 Vistaprint study, 36 percent of respondents stated they find new businesses through online research.
This means you can't afford to overlook the importance of online visibility!
Your pages must be branded and professional; think of this as your pass/fail test with your potential clients. One of the top ways to connect with your patients is through customization and telling your story. Patients are not only looking for a reputable dentist to take care of their needs, they want someone they feel comfortable going to for those biannual cleanings. Finally, and this is more important than ever, your website needs to look as good on a mobile device as it does on a desktop or laptop.
Get Referrals
Another key to getting new patients is in obtaining good referrals from your existing ones. Whether it is word of mouth or more so, online, good reviews can make or break your case for getting a new patient to choose you over your competitors.
BrightLocal's 2014 Local Consumer Review Survey found that 88 percent of consumers trust online reviews as much as personal recommendations.
Referrals also help drive more people to your business pages and website. Another item you might want to consider is hosting a new patient referral contest. This engages your existing clients and incentivizes them to refer friends and family to your practice. When they do that, the likelihood of online visits to your website increases, and hopefully, new patients will turn into dedicated, existing ones.
Insurance Searches
Insurance…it's typically a black and white topic. Either patients have dental insurance or they don't. How you present yourself to both those who do and those who don't (or the ones who have it but you happen to fall out-of-network), can make all the difference in how you attract those new patients. When people get new insurance, one of the first things they do is search for whether or not their preferred doctor or dentist is in-network. But what about those people who are looking for a new dentist, for any number of reasons? You want to make sure you're accessible to them.
One of the key ways to ensure you can capitalize on those individuals scouring their insurance sites is to be "found" in the searches. This goes for in-network and out-of-network. If someone read a good review about you and liked what your website had to offer (see previous topic!), then finding you in the search results of either their in-network or out-of-network plan might be what gets you the call versus Dr. John Doe down the road.
Organic Search
You know when you want to deliberately find something online but don't know where to start… you typically begin with your preferred search engine. Well, your potential patients are no different. People want to find the information they want, and they Want. It. Now.
According to Hubspot, 75 percent of users never scroll past the first page of search engines.
I'm sure you've heard it before, when someone is searching for you on a search engine, if you're not on page one, you don't exist. You have to make sure the content you're putting on your site contains good keywords that land you at the top of peoples' searches.
Paid Marketing
You've seen this, from ads on your search engine to billboards to television. Paid marketing is one of the top ways organizations reach out to their consumer base and spread the word about their business. Say a potential client is searching for dentists in your area. If you have Google Adwords, your ad will appear on the page of that search, and you only pay when someone clicks on your ad to take them to your site.
Don't forget about traditional offline marketing tactics such as billboards and TV or radio ads. They can also help you reach new patients. The key is making sure your online and offline marketing strategies work together, not against each other.
Get Involved in Your Community
One of the best ways to connect with your potential clients is to be a community presence. Your involvement shows people that you are committed to goodwill and giving back.
Demonstrate that you're a local expert on all things dental by giving presentations. Go to nearby schools and educate students on the importance of dental health. Sponsor a Little League team or cosponsor a run with other businesses in the community. All of these are ways to gain more exposure, and make you a more favorable prospect.
We've covered a wide variety of tactics on how to generate a solid new client base for your practice. If your marketing strategy doesn't include these elements, you need to add them to your business plan now.
If you need help in incorporating any number of these strategies into your practice, TNT Dental is happy to help.
---
About The Author
Tim Kelley is one of the founders of TNT Dental, the #1 creator of custom websites and marketing strategies for dentists. Recognized as a leading expert in helping dental practices grow, Tim is passionate about harnessing the power of online marketing to attract and keep new patients. If there is anything Tim can do to help you, please do not hesitate to contact him directly at the office, (877) 868-4932, on his cell, (972) 989-9137, or via email at tim@tntdental.com. Of course, you can always visit www.TNTDental.com to learn more.