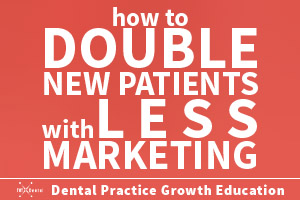 By now, you've learned there's more to growing your practice than just following leads to get new patients. If you remember from our "How to Grow Your Practice: The Four Phases of Practice Growth" blog article, there are multiple ways to get to Net New Patients™: lead generation, conversion, treatment acceptance, and relationship building. While most practices focus on lead generation, the single most important phase is conversion. It may not be the most exciting, but if you can master converting patients, you can pave the way to doubling the number of new patients in your practice and simultaneously cut your marketing budget!
---
The Facts of Conversion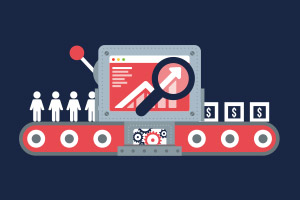 Just think, the average practice has about a 24% conversion rate (for every four leads, they get one patient). But, the best practices nearly triple that amount, converting three out of four leads for a 78% conversion rate!
When you put that into real-time numbers, here's another way at looking at the average practice – for every 100 leads, they get 25 new patients a month. But, say you're interested in elevating your game and going from an average practice to a "best" practice. You have a couple of considerations to boost your number of new patients.
You can go with Door 1 and aim to get 140+ leads. With the help of your dental marketing firm, you should be able to attain that…right?
Behind Door 2 is a choice to convert 10% better. So, if you increase your conversion to 35% (which is about half of what the best practices convert), you can up your overall conversion rate AND you don't have to spend any more on your marketing budget!
---
How Do You Do That?
To improve your conversion rate, you have to be ready to improving some processes within your practice to make this happen.
---
Phone Leads

This is the most important job in your practice. First, identify your best people person on your staff. Get them on the phone and have them make that their highest priority – they're now your Phone Champion. Need tips on great phone skills? Be sure to check out our webinar on  "Give Your Staff World-Class Phone Skills" for tips. They'll need about 15 minutes per call and an interruption-free space to complete these calls.
In a typical practice, with 100 leads a month, you can have 80 phone calls a month. This averages four patients a day, so when you crunch the numbers, you just need your Phone Champion to focus on this effort for one hour a day, to help you convert those patients!
---
Proactive Management

To help your Phone Champion be the best they can be, you'll need to manage/monitor the calls after the fact. Look for development opportunities you can bring to their attention; if someone doesn't know they are doing something incorrectly, how can they ever correct it?
---
Rapid Response

Make it a rule of thumb to respond to forms submitted to your site within five minutes. Studies show the conversion rate was six times higher when patients received a quick response!
---
Alternate Lead Sources

Start thinking of other ways you can convert patients. One way is through chat. Chat functionality on a site makes your practice more accessible for website visitors, aka potential patients. The average website has 200 visitors a month. Having a chat function gets you between six to 12 additional leads, which translates to three additional new patients a month!
---
So, considering the different methods to make conversion happen, let's go back to the better version of "Let's Make a Deal" and revisit Door #1 and Door #2. Instead of choosing Door #1 and focusing on both more leads and marketing spend, what if we looked at Door #2 and decided to focus on conversion? If you can increase your conversion rate to just 50%, all you would need is to get 70 leads…and you can cut your marketing budget by 30%!
Conversion may not be the prettiest phase of practice growth, but if you can master it, it can be very lucrative for your practice. If you're ready to take the first step and start looking at how you can improve your conversion rate while decreasing your marketing budget, contact the team at TNT Dental and our experts can help you double your new patients today!
---
About The Author
Tim Healy is one of the founders of TNT Dental, the #1 creator of custom websites and marketing strategies for dentists. Recognized as a leading expert in helping dental practices attract new patients, Tim has a true passion for teaching dentists the important "business stuff" they do not teach you in dental school. If there is anything Tim can do to help you, please do not hesitate to contact him directly at the office, (877) 868-4932, on his cell, (214) 680-1270, or via email at tim@tntdental.com. Of course, you can always visit www.TNTDental.com to learn more.