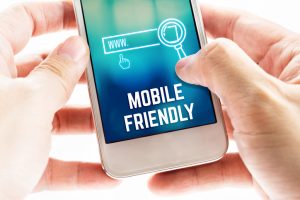 2013 may not seem that long ago, but Internet years are like dog years.  The big news stories of the day were the Boston Marathon bombing; the word "selfie" being included in the dictionary for the first time; and the birth of Prince George (son of the Duke and Duchess of Cambridge). Interestingly, more than half of all dental websites in use today were built in 2013 or before.
It is easy to think about all that has changed in the past 4 years.  Yet, one thing remains unchanged.  Your website is still the foundation of your practice's marketing strategy.  It provides the critical "first impression" to almost all new patients, and it is the most effective way to tell your story.
How does your website look?  More importantly, how does your website look and function on your phone?  What is the first impression it gives?  Go ahead, take a look.
While you are recovering, let us look at some facts. In 2013, less than 25% of all searches on the Internet were completed with a mobile device. In 2017, that percentage is 58% (and growing). In fact, 68% of all health-related Internet searches are completed on mobile devices. This means that if your website is not optimized to welcome mobile traffic, 7 of every 10 potential, new patients will have a hard time finding you and will not be impressed if they do.
It Starts with Mobile Website Design
Obviously, mobile devices have limited space to display your website and your message.  In addition, the way people interact with mobile websites is very different.  Big blocks of text are out.  Photos, buttons and swipe zones are in. Every design element can be the difference between a new patient and a missed opportunity. With this in mind, here are some of the design guidelines your mobile website should follow to be effective in 2017 and beyond:
The top third of your initial screen should lock into place (never scroll) and should include your practice name and logo; a click-to-call button; a button to get directions and a custom map; and a button to open a menu of all content on your website.
The bottom third of the screen on a mobile phone is its the swipe zone. This is because most phones are thumb-operated, and this is where thumbs are most active.  Try it.  As a result, this area should always include a call-to-action button.  In most cases, this should be to request an appointment.  Buttons placed elsewhere are almost guaranteed to get less action.
Content should be organized into short blocks of 50 to 75 words. Each block should be accompanied by a "read more" option that provides one-click access to much more detailed information.  This design allows mobile users to quickly scroll through many topics until they find what they are looking for.
Content is Still King
Sure, the user experience created through proper design is important.  At the same time, the actual content of your website remains an incredibly important determinant of success. This starts with understanding Google's algorithm for mobile search, and it extends to how people are searching on their phones and to the types of content they are most likely to consume when they find it.  Here are some specific ideas to keep in mind when building your mobile website content strategy:
From 2013 through 2016, Google has utilized at least two versions of its search algorithm – one for desktop computers and one for mobile devices. The desktop algorithm has always been the primary one.  At some point during 2017, Google is expected to eliminate the desktop algorithm altogether and place primary importance on its mobile algorithm.  This makes sense – as more than 70% of all searches will be on mobile devices – and it requires successful websites to have content strategies that are optimized for mobile.
The fastest growing method of search is voice activated search – talking to your phone. Currently, it accounts for approximately 33% of all mobile searches (with its share continuing to expand).  And, almost all voice activated searches are questions – people asking Siri or another digital assistant a question.  There is no typing, and there is much less emphasis on keywords.  This means having your content organized as answers to these most common questions will give you a huge competitive advantage over the older websites focused on keywords.
If YouTube had its way, nobody would even need to learn how to read anymore. As the #2 search engine in the world, they are already more influential than you think.  For this reason, video content is going to continue to grow in importance, and this transition is being accelerated by the move to mobile.  Just think.  Is it easier to struggle through tiny text or watch a quick video to find the answer to your question on your cell phone?  If your website does not contain at least 20 custom videos by the end of 2017, you are going to be left behind.
What Language Does Your Website Speak?
Finally, it is important to utilize the proper programming tools to transform all of these designs and pieces of content into a mobile-friendly website.  This is where something called "mobile-responsive development" is important to know.  Google wants each small business to have one website that tells their entire story.  Gone are the days of microsites and separate mobile websites.  Using the latest development languages, it is relatively easy to create a single website which identifies the type of device trying to access it and renders a version ideal for that browser and screen size.  Plain and simple, not using responsive design for your website in 2017 will put you at a competitive disadvantage to at least 85% of your competitors.
4 Years is a Lifetime for a Website
Just as Prince George has gone from a newborn baby to a very mobile 4 year-old since 2013, your website should be very different today than it was in the early days of selfies. Elements of design, content and development should have been updated to place your practice in its best competitive position. A toddler needs to walk and talk to keep up with his friends, and your website needs to be meet all of the latest mobile standards. Following the above steps will put you on the right path towards long-term growth, excellent search engine visibility – and lots of new patients.
About The Author
Tim Healy is one of the founders of TNT Dental, the #1 creator of custom websites and marketing strategies for dentists. Recognized as a leading expert in helping dental practices attract new patients, Tim has a true passion for teaching dentists the important "business stuff" they do not teach you in dental school. If there is anything Tim can do to help you, please do not hesitate to contact him directly at the office, (877) 317-4885, on his cell, (214) 680-1270, or via email at tim@tntdental.com. Of course, you can always visit www.TNTDental.com to learn more.